Our Parent Company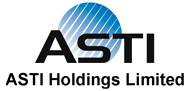 ASTI Holdings Limited is a uniquely positioned technology group, comprising Backend Equipment Solutions & Technologies (BEST) and Services.

The BEST Group is mainly engaged in the provision of solutions and technologies in the backend (i.e. assembly, test and finishing) arena of the semiconductor industry.

The Services Group is engaged mainly in the distribution of electronic components and investment holdings and management..

For more information on ASTI Group, please visit www.astigp.com.